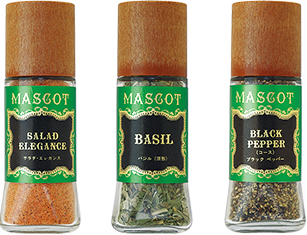 Wishing to deliver high-quality spices to homes, in 1974 we launched the first Mascot brand spices in  bottles as YASUMA Koshinryo CO., LTD. From the beginning, we began selling carefully selected spices and herbs with an exacting focus on producing region.
We actively develop and sell products as a pioneer in the sales of spices and herbs in Japan,  with many long-selling products among our lineup.
Our popular products include garbanzo beans and other dried Western beans, the all-purpose seasoning Salad Elegance, One  Series Onion Confit,  and granulated Consomme and Chicken Bouillon, along with the Indo no Aji curry paste that has been a popular item from the beginning.